Product Description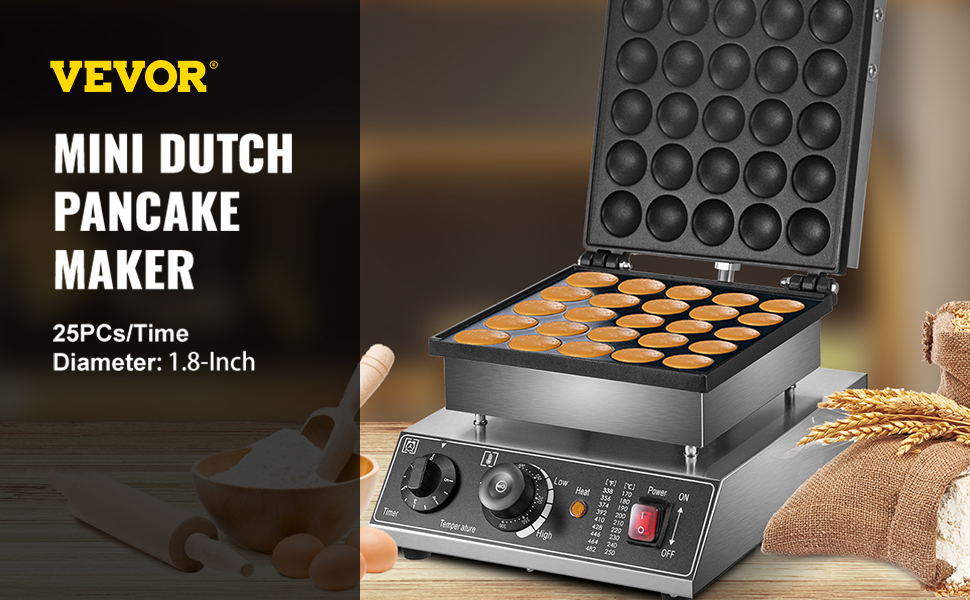 Features & Details
【HEAVY-DUTY CONSTRUCTION】- High-quality stainless steel can assure you that the mini pancakes maker will look good even after years of usage, be always kept clean, and serve longer. It is designed to make plenty of mini pancakes in a few minutes, making it easier to serve this snack quickly without making your customers wait.

【HIGH EFFICIENCY & FAST HEATING】- Unlike others' pancake machine, the baking plate of our machine is made of high-grade aluminum with high thermal conductivity to spread heat rapidly and evenly. The parallel heating design with constant temperature ensures the perfect color of each mini pancake. In just 3-5 minutes, 25 poffertjes

(

Φ

1.7″x0.7″

)/6 square waffles (3.9″x2.4″x0.9″) are out of the pan.

【PRECISE TEMP & TIME CONTROL】- Regulate temperature (122-572℉ / 50-300℃) with an adjustable control knob to bake delicious and soft mini pancakes. The timer is 0-5 minutes adjustable, and the machine will remind you when time is up. What's more, the indicators are designed for clear observation of the working status.

【WELL-DESIGNED DETAILS】- We have considered all the details for you – ①Comes with a comfortable handle to keep your hands away from the accidental burn. ②The stable tiny rubber feet help to protect the surface of the table from scratches. ③A stainless steel conduit pipe covered around the wire and the waterproof switch ensure safety during operation.

【DELICIOUS PANCAKE MAKER】- Our poffertjes maker is suitable for baking resembling small, fluffy pancakes that are made with yeast and buckwheat flour, with a light, spongy texture. It perfectly fits for an open kitchen of any café, cold drink shop, canteen, or restaurant.
INSTRUCTIONS FOR USE:
1. Before using your Waffle Baker for the first time, remove any dust from shipping by wiping the plates with a damp cloth. Remove all protective paper and wrapping.
2. Plug the cord into a 110V/220V AC outlet. Switch the On/Off Switch to the "On" position. Turn the "Temperature Control Dial" to 230°C. The green warming indicator light will now turn on.(The first time you use your waffle maker, it may have a slight odor and may smoke a bit. This is normal, and common to heating appliances.)
3. When the light turns off the unit has reached the desired temperature and is now ready for use.(When the light is on the unit is heating, when the light is off the unit has reached the desired temperature. This may occur during regular use while the machine maintains the desired temperature.)
4. Before baking the first Waffle of the day, use a pastry brush to lightly coat the top and bottom waffle grid with vegetable oil or melted shortening to reduce the risk of Waffle sticking to the grid once cooked. Nonstick baking spray works well for this purpose.(This should be repeated every few batches of Waffle.)
5. Ladle just enough batter to fill the lower grid so that the peak areas of the grid are completely covered.
Clean Note:
​1. Allow the Waffle Baker to fully cool before you begin any cleaning procedures.
2. Make sure the Waffle Baker is unplugged from the power supply.
3. Using a dry cloth remove all remaining food particles.
4. If food particles still remain use a non-abrasive detergent. NEVER USE DETERGENTS THAT CONTAIN CAUSTIC SODA. This will destroy the plates.
Key Features



 

Stainless Steel Body

 

The main body of our dutch waffle maker adopts high-quality thickened stainless steel material, with an attractive appearance, offering a more reliable and durable cooking experience.




 

Parallel Heating Plates

 

The highly conductive aluminum plates spread heat evenly to keep poffertjes from burning, featuring a parallel heating design. Above all, 25 poffertjes (Φ1.7″x0.7″)/6 square waffles (3.9″x2.4″x0.9″) can be cooked simultaneously.




 

Temp & Time Control

 

With a temperature knob (50-300℃/122-572℉) and a timer knob (0-5 min) for precise control. The indicator directly shows working status, plus overheating protection is available.



 

Convenient Handle

 

The handle of our pancake machine commercial is made of stainless steel material, with reinforced structure and heat-resistance, far beyond practical and non-perishable.




 

Considerate Details

 

The wire is protected by a stainless steel sheath, featuring a waterproof switch, for improved reliability and security. Furthermore, four nonslip rubber foot pads boost stability during operation.




 

Various Applications

 

Yummy poffertjes can be served with sweet garnishes, such as syrup, whipped cream, or strawberries for added flavors. It is also served on a plate with a knob of butter or sprinkled with powdered sugar.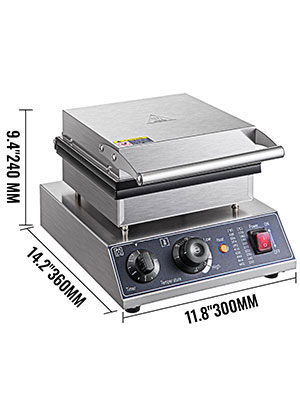 25Pcs Round Mini Dutch Pancake Maker
Making up to 25 mini dutch pancakes, also known as poffertjes, with this professional baker is as easy as ever. The parallel Teflon coating heating plates ensure the perfect golden-brown color of each mini pancake. This VEVOR's mini waffle maker is suitable for home use as well as for any catering business. With a compact body, it takes little space and can be used even in small kitchens.
Heavy-Duty Construction

High Efficiency & Fast Heating

Precise Temperature & Time Control

Well-Designed Details
Specifications
Rated Power: 1750W

Pancake Size:

Φ

1.7″x0.7″/

Φ

43×19 mm

Temperature Range: 122-572℉ (50-300℃)

Baking Time: 1-5 minutes per Time


Item Dimensions: 11.8″x14.2″x9.4″ (300x360x240 mm)

Item Weight: 24.3 lbs (11 kg)
Package Content
1 x Poffertjes Machine

1 x Bread Clip

2 x Brushes

1 x Egg Beater

4 x Cleaning Sponges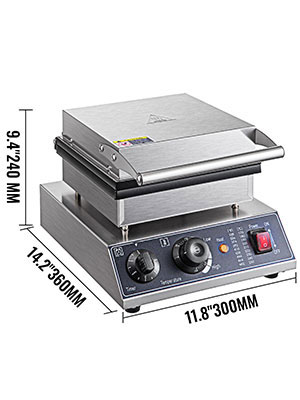 6Pcs Square Commercial Rectangle Waffle Maker
If you own a restaurant that serves the breakfast buffet, or if you want to treat your family members with golden brown square waffles, there is no alternative option without having a VEVOR's square commercial waffle maker. The parallel Teflon coating heating plates ensure the perfect golden-brown color of each waffle. And with a compact body, it takes little space and can be used even in small kitchens.
Heavy-Duty Construction

High Efficiency & Fast Heating

Precise Temperature & Time Control

Well-Designed Details
Specifications
Rated Power: 1750W

Waffle Size: 3.9″x2.4″x0.9″ (100x60x24 mm)

Temperature Range: 122-572℉ (50-300℃)

Baking Time: 1-5 minutes per Time

Item Dimensions: 11.8″x14.2″x9.4″ (300x360x240 mm)

Item Weight: 24.3 lbs (11 kg)
Package Content
1 x Square Waffle Maker

1 x Bread Clip

2 x Brushes

1 x Egg Beater

4 x Cleaning Sponges